Mommy and Me Fencing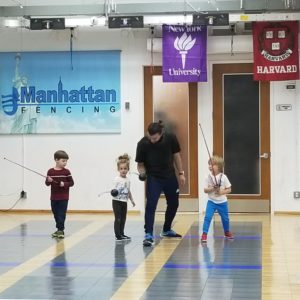 At this young age, motor development and muscle strength stimulation is critical for children.
This sport will help your child develop better balance, agility, discipline and self control.
Being able to handle their own emotions is an important life skill that will help your child in school and elsewhere, particularly when it comes to interacting with other children.
These classes will help develop their confidence,communication skills and social awareness while having a lot of fun! Plastic fencing equipment is utilized during the mommy and me and mini musketeer classes until a child is 6.5/7 years old.
Classes are offered on Thursdays at 3pm starting January 25, 2018. Students and parents need clean indoor sneakers and comfortable clothes. All equipment is provided.
Please give us a call for more information and to reserve a spot.