Coach Oleg is an Amazing Coach and Person
My son has been training with Coach Oleg at Manhattan Fencing Center for about two years. Oleg is an amazing coach and person. In addition to being an extremely skilled fencer, Oleg is very engaged and communicative. It's wonderful to see my video-game obsessed son so excited about training with Oleg. The club itself is very welcoming and well-run with excellent group classes. Cannot recommend enough!
Coach Volodymyr Has Been Amazing
Our family's experience with Manhattan Fencing Center, and with our son's coach, Volodymyr Lukashenko, has been amazing on so many levels. Our son suffered from low muscle tone as a pre-schooler and had physical, occupational and speech therapy. Fencing has provided a discipline and practice that cemented his progress and boosted his confidence on every level. Now he is taller than his mother, strong, coordinated, and thriving on the competition that fencing provides. Coach Volodymyr has been with him every step of the way and we are so thankful for everything he has done to patiently encourage and challenge our son reach his full potential ... to take himself seriously as an athlete. Thank you Manhattan Fencing Center!
Coach ALex is the Coach We Always Hoped for-Passionate, Motivating, Energized
MFC is stellar in every respect. My daughter has been at MFC for the past 2 years and has grown so much as a fencer, an athlete, and a person. Each coach at MFC is talented, superb and truly cares about the development of each student. In particular, my daughter's coach, Coach Alexander Sourimto, is the coach we always hoped for - passionate, motivating, energized, straightforward and honest, caring, and always pushing her to do better than she did the day before. He has helped instill confidence in her on and off the fencing strip, helping her improve and learn from her mistakes. She looks forward to every practice at MFC and every lesson with Coach Alex. The facilities at MFC are spotless, sanitized and bright; the students are helpful to, and encouraging of, one another; the classes are rigorous; the staff is professional and responsive. Overall, an amazing club!!
Virtual training!
I love seeing how quickly and efficiently MFC has stepped up to provide continued off-site virtual training for fencers in this time of need. This new norm is pushing fencers out of their comfort zone, but this is where growth happens and I am excited to see this manifest itself on the piste whenever in the future that may be. That said, Luca has been working hard training every day and would love to join the Sports Psychology Seminar with Dr. Tausig next Thursday. Thank you so much!
Virtual classes, and it is been amazing!
We have finished the week of virtual classes, and it is been amazing - full of connection, activity, and community. Obviously those things are lacking right now. I just wanted to express my gratitude. Nadia has never been more exciting in times of full seclusion to practice fencing. You guys have done a remarkable job.Thank you to all of you. Nellya, hats off to you!
Top fencing club with world-class coaches is here
Everything you would expect from one of the top fencing clubs with world-class coaches is here - superlative training and fencers who consistently succeed at national and international competitions. The club manages to produce elite athletes with concern for the children's overall physical, mental and emotional well being. The coaches take a long view of their students' development, keep fencing fun, and are tireless in working with students and answering questions or concerns. We feel like we have a real partnership with our daughter's coaches. As a result, our daughter is not only learning fencing, but accountability, responsibility, and how to balance having fun with hard work. We are very fortunate to have a place like MFC!
The MFC staff has been a pleasure to work with.
From the time Maria took her trial lesson to this day, we were never let down, but always supported and encouraged. Julia and the other MFC staff members are always available, infinitely patient and are there to help. A special THANK YOU to Yury Gelman! Yury is a legend in the fencing world, but knows every kid by name, always has an encouraging word to say, and never forgets to congratulate no matter how big or small the victory was! He created a very safe and stimulating place for the kids to grow and learn the sport that teaches them how to achieve your goal, work hard, support each other and never give up! THANK YOU
Unique relationship between a coach and an athlete!
My daughter has been training at MFC for over four years and I cannot speak highly enough of the club and most especially her coach Nellya Sevostyanova. Nells has been a pivotal force in her life - teaching her much more than just fencing skills, but life skills as well. Nells is able to understand each fencer and work specifically with their strengths and address their weaknesses. She treats her fencers like family - there is a unique relationship between a coach and an athlete, and Nells understands this perfectly. Fencing has given my daughter stamina, endurance, critical thinking, confidence and respect. What she is learning here will last her lifetime.
Great learning experience with Aliaksandr
My daughter was completely thrilled with Manhattan Fencing! She had a great learning experience with Aliaksandr. The skills he showed her allowed to do well in the group class, enhancing her appreciation and respect for the sport of fencing. I, personally, found the staff to be both professional and personable. They were knowledgeable, insightful and caring. I can see why Manhattan Fencing is so highly ranked. Here are my daughter's own words" "The teachers were nice. They helped me learn the fine points of fencing. I had a lot of fun too!" From my twelve year old, that's a rave review. Thank you Manhattan Fencing!
Best fencing center in Manhattan
After four years of fencing practice at Manhattan Fencing, I can say without hesitation that Manhattan Fencing is the best fencing center in Manhattan, with outstanding and skillful coaches and wonderful state-of-the-art facilities.
Brand new facilities
Brand new facilities. Just opened in their new space. The coaches are great. Most are former Olympians. The kids that fence there are fabulous. Nice group and extremely supportive of each other's successes.
Thank you for this fantastic 4 years
Yury,Thank you for this fantastic 4 years, what you gave me is priceless. My dream came true with this opportunity and I will always be thankful to you for being my coach, mentor and friend on this journey!
..I never thought I'd try fencing
...This is such a fun sport, and all of the people there are so friendly and laid back that I wont' feel bad at all about my level or skill next time.  Not to mention how great of a workout it is - don't underestimate all that squatting and lunging!
..great place to learn
Excellent club with best fencing coaches available.  I fenced as a kid and restarted fencing in my 40's.  It is a great sport and this is great place to learn.  All are made to feel welcome here.
great place for families
Love this place!!!! Awesome staff, clean facility, can't wait to tell my friends, great place for families!!!!
Worth the trip
The best! Worth the trip from DC to NYC every time
Great facility
Great facility. Spirited bunch of fencers and coaches.
Coach Sergey is very knowledgeable
Our son attended the Pre-Summer National Camp and loved every minute of it! Coach Sergey is very knowledgeable and was very attentive to our child.
..definitely come check them out!
We moved up to NYC about a month ago and went to the Mid-Manhattan library to get some books saw a sign saying the MFC has free fencing lessons on Friday during the summer. It was so awesome and fun.  They taught us plenty of basics with footwork, attacks, defenses, and combos. If you want something fun and lighthearted to do, definitely come check them out!
..full body workout imaginable
Been an athlete my whole life, and have watched my son fence through high school so I decided to try something new. Adult fencing is the most intense, full body workout imaginable! Nothing like learning something completely new later in life to keep your brain and body active! Friendly, respectful, and knowledgeable coaches and adult fencing students! Can't wait to get better at this
Birthday party
Thank you for making my daughters birthday so exciting. I recommend this place to anyone with kids looking for a party or something fun to get your kids involved in. We will be coming back for your kids classes!
Level of instruction is impressive!
My daughter came here after fencing for one year at another fencing school and got beat by kids in their second week at the Manhattan Fencing Club. Level of instruction is impressive.Don't waste your time and money with other schools.
Amazing Instruction and Staff
I brought my children here for summer camp and after the first day they were hooked. We have now been fencing for two years and it is a family activity rather than just the kids. All the other kids and parents are so friendly and the atmosphere is great. Stop by and check out their introductory packs before making any commitments.
It was great fun!
Great team, we came here for a team offsite and it was great. Most of us have never been fencing before and the instructor was really helpful. We got a quick, useful and fun introduction after which we were allowed to fence. It was great fun! Seems like a really nice activity for kids too.
Great for kids and adults
This elite fencing school has options for beginners to Olympians. I've fenced here myself and always have a great time. Highly recommended if traveling to NYC and especially for anyone who lives close by. Classes start at age 4 (they call them musketeers!).
Our coach Vladymyr is excellent!
We signed up for a course with my other half earlier this year as we wanted to try something different. We have been having so much fun fencing! Our coach Vladymyr is excellent. He is also a World Champion. Everyone at the club welcomed us.  En garde!
Amazing coaches
For years I have had the pleasure of working with the coaches at MFC. They are amazing coaches, great with kids, and the club is owned by one of the greatest coaches in modern day, Yury Gelman. There are several amazing clubs in NYC, and you won't go wrong with any of them, but you certainly won't go wrong here.
About
Located in Midtown, the Manhattan Fencing Center was started in 2007 by U.S. Fencing Hall of Fame Maestro 
Yury Gelman
. Fencing success has everything to do with the club and coaches. We pride ourselves on our exceptional facility, our world-class coaches and our dynamic programs.
Read more
.
Register for Lessons, Classes and Camps
Why MFC?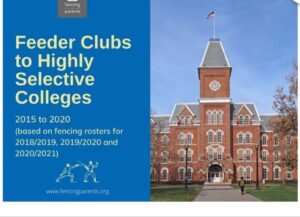 Winner of 2021 & 2019 Summer National Saber Medal Count
2015-2020 #1 Saber Feeder Club to Highly Selective Colleges
2010-2019 Honor Roll Div I National Team Champions
Recipient of 2018-2019 President's Award
Elite coaching staff with Master's Degree in Fencing, Olympians and World Champions
Prepared Olympic Silver Medalist, Daryl Homer (RIO), Olympic Bronze Team Medalists Dagmara Wonziak and Monica Aksamit (RIO), Olympic Silver Medal Team (BEIJING)
MFC's fencers have been accepted to some of the most prestigious colleges and universities with more than 50% admission to Ivy League schools