Have your Birthday party at MFC!
We offer a FUN, ACTION-PACKED, and UNIQUE birthday party experience! Let us do all the work while you and your guests have all the fun.
MFC Birthday Party Information
The Basic Party is $450.00 for up to 10 people. Each additional guest is $40.
This price includes:
2 hour use of club facilities with specialized floor
Fencing equipment–masks, weapons, jackets, gloves
Fencing instruction by one of our expert coaches. Will talk about fencing history, demonstrate techniques and footwork, then the fencing competitions begin! Fencing portion is 70-75 minutes, party is 45- 50 minutes, wrap-up is 10 minutes
Audio equipment for background music, feel free to bring your own CDs (only for parties booked on 2nd floor, please let us know if you would like this option when booking)
Tables, chairs, table cloth, decorations
Certificate of completion
Free trial fencing class for each participant
Additional charges:
Extra fencing time
Extra party time
Please:
Arrive 10 -15 minutes before your party's scheduled time for preparation.
Inform participants of dress code: Sneakers, T-shirts, and shorts/sweatpants.
Contact us here for any other questions you may have.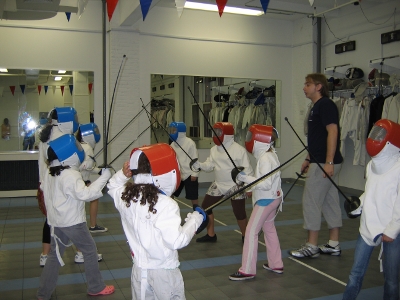 Corporate Events and Team Building at MFC!
Fencing is known as physical chess. It teaches decision-making skills, the ability to perform under pressure, developing and following strategies, as well as fostering good communication between team members.
Let us bring your team closer together with a fun and action packed event!
Events range from 1hr to 1.5hrs depending on your team goals and amount of guests
All fencing equipment and instruction is included
Dress code: Indoor-Clean Sneakers, T-shirts, and sweatpants.
Contact us here for group pricing and availability.